Disposal services for

transport packaging
The Packaging Act sets out special obligations for packaging manufacturers and distributors that are not subject to the system participation obligation (including transport packaging).
The registration requirement in particular has been expanded in the 2021 amendment to the Packaging Act.
Why we're the right waste management
service partner for you
We're your expert partner for any queries regarding the disposal of transport packaging. We make the waste management process efficient, simple and reliable so you can meet your take-back and recovery obligations in a legally compliant manner. To this end, we only work with certified waste management service providers. We find the right custom solution for your company with you. We take care of all processes involved in the recycling and professional disposal of your transport packaging.
We dispose of transport packaging made of:
We provide disposal services for the following sectors:
Your advantages

with Zentek
Why we're your top contact.
Legally compliant
waste disposal
Customised disposal
and sorting plans
Nationwide waste management
solutions from a single source
Zentek's online volume

reporting tool
The online volume reporting tool is an incredibly simple way of reporting your planned and actual volumes of transport packaging.
The simple way to report
transport packaging volumes
Working with us is simple and straightforward – just tell us what volume of packaging you would like us to dispose of for you. We ensure that your packaging is returned safely by collecting it in bulk directly from your customers in a cost-efficient, legally compliant and environmentally friendly process. Once collected at source, the packaging is separated into its various materials at a sorting facility. In keeping with the principles of a resource-efficient and sustainable circular economy, these materials can then be recycled and returned to the material cycle. You can also benefit from digital volume reporting via our online volume reporting tool, which makes submitting packaging volume reports simple and transparent. With just a few clicks, the user-friendly online volume reporting tool makes meeting your obligation to report packaging volumes quick and easy. The volume reporting process is fully digital and automated, saving you time and keeping errors to a minimum.
Are you looking for a
customised waste management plan

?
Are you looking for a

customised waste management plan

?
We develop the right solution for your company with you.
Professional disposal of


transport packaging.
Transport packaging must be properly disposed of and returned to the reusable material cycle via recycling methods. This type of packaging usually consists of a mix of materials, so it has to be collected separately from other types of waste. The transport packaging is sent to a specialist sorting facility to sort out unsuitable materials. This makes it possible to sort the materials as cleanly as possible and recycle them in keeping with an effective circular economy.
The Packaging Act (VerpackG) has been in force since 1 January 2019 and implements the
European Packaging Directive
here in Germany. This directive requires that the EU member states adopt the EU measures to reduce packaging waste and its impact on the environment. An amended version of the Packaging Act took effect in July 2021. Among other things, this amendment has expanded the obligation for manufacturers of transport packaging to register with the
Central Agency Packaging Register
. Please see
here
for detailed information on the Packaging Act. You'll also find an overview of all the updates to the law since the amendment in 2021.
What is the
Central Agency Packaging Register

?
The
Central Agency Packaging Register
(
ZSVR
) is a civil law foundation. Since the Packaging Act entered into force, the ZSVR has
monitored compliance with the legal obligations
the act places on manufacturers and the dual systems. It also runs the
LUCID
online register where packaging manufacturers and distributors are required to sign up before placing products on the market in Germany. The ZSVR can impose fines in the event of violations of the Packaging Act, and violators may be prohibited from selling products.
Which products

are affected by the Packaging Act?
All types of packaging are subject to the Packaging Act and, in addition to sales packaging, include transport packaging, outer packaging, reusable, disposable and service packaging. The requirements that apply to the respective distributors of this packaging depend on the type of packaging. Sales packaging that is subject to the system participation obligation must be licensed with a dual system, for example. This does not apply to transport packaging.
To whom do the legal obligations

in the Packaging Act apply?
Manufacturers and distributors that bring packaging of any type into circulation are required to meet the legal obligations according to the Packaging Act. A registration requirement has been in place for manufacturers of transport packaging since 1 July 2022, making registration with the ZSVR compulsory for them. Importers of products to Germany and companies that are domiciled abroad and export products to Germany are also subject to these obligations.
What do I need to do
according to the Packaging Act

?
What do I need to do

according to the Packaging Act

?
We help you register your transport packaging in compliance with the law.
Registration with the ZSVR must be completed before companies place products on the market in Germany. Since July 2022, new requirements also apply as regards the obligation to provide information, proof and documentation. Distributors of transport and commercial packaging must provide for the free take-back and disposal of this packaging from their customers. The Packaging Act expressly provides for the option of contracting third parties. When your packaging is included in our take-back system, we organise its take-back and recovery in keeping with the principles of the VerpackG.
Achim Gibson is your personal contact and would be happy to assist you with specific questions or provide a quote.
You might also be
interested in
Find out about our other service lines.
The extended producer responsibility (EPR) applies throughout Europe. Depending on the distribution country, various legal obligations and guidelines apply to manufacturers and companies selling products to countries outside Europe as a result of the EPR.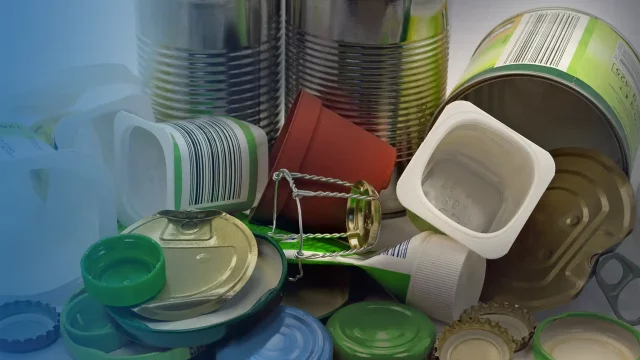 Are you a manufacturer or distributor that places sales and outer packaging filled with products on the market in Germany that accumulates as waste in private households and similar locations after use? If so, you'll want to make use of a dual system. This requirement (and exceptions to it) are set out in the German Packaging Act (VerpackG).
Any
questions

?
We're here for you.